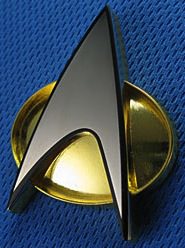 If you like to dress up Star Trek style then you will need a communicator badge.
And now you can get one that is made from the original mold from the TV series Star Trek The Next Generation.
This badge is not just painted plastic no it is made from gold and silver toned metal and has the exact dimensions and look as the once Captain Picard and his crew wore.
And this badge is not the pin kind that damages your uniform not this Star Trek badge is magnetic and that makes it the best communicator badge you can get.
Star Trek fans come and check out this Star Trek TNG Communicator Badge.