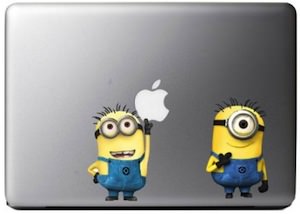 Want to make your Apple laptop look even better then it already does?
This Despicable Me decal will make you Mac look funny.
The laptop decal shows two Minions, one is pointing at the Apple logo and the other is thinking about eating the Apple.
By bringing some color to the chrome back of your laptop makes it fun and easy to spot to.
You can get this Minion laptop decal for 13, 15 and 17 inch Macbook models and that will make it fit perfectly.
So get some yellow on your Mac with this Despicable Me 2 Minions And An Apple Laptop Decal.