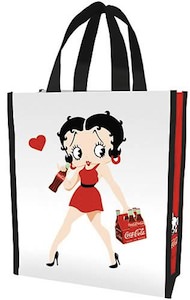 Betty Boop loves her Coca Cola and on this reusable shopping bag you find her caring a carton of Coke bottles and a little heart above it to show us  her love for Coca Cola.
Besides having only Betty on it you can also find her dog Pudgy on the red side of the bag.
This tote bag is a little bit smaller then the usual size reusable bags but that means that it is great for smaller shopping or different tasks. This bag is perfect for you lunch or even to put a gift in.
And besides being pretty this bag will save the planet because now you don't have to use so many plastic bags that end up in the garbage. This Betty Boop bag is made out of 25% recycled material and that makes it twice a good as a normal plastic shopping bag.
Betty Boop collectors are gone love this bag. So be quick and order your Betty Boop Tote Bag.