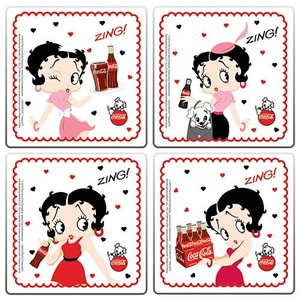 Why get dirty marks on your table from glasses of Cola?
It's not nesecary and now you can get this set of 4 Betty Boop Coca Cola coasters to help with that.
These laminated wooden coasters will keep your tables clean and the nonslip cork back will keep them nice in place.
On these coaster you will see Betty Boop and Coca Cola. Betty will drink or serve the bottles of Coca Cola and her dog Pudgy is close bye  to keep an eye on things.
This coaster set is a must have for any Coca Cola or Betty Boop collector.
So don't wait and go get your own Betty Boop Coca Cola Coaster Set.