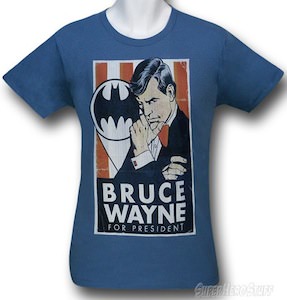 This is what the Batman fans want!
On this t-shirt you can see Bruce Wayne and the Batman logo in the back and below that the text "Bruce Wayne for President" and sure if Batman becomes president the world would be a better place.
This t-shirt is blue and has the scene printed on it like it is a distressed poster.
And this t-shirt comes in a wide range of adult sizes so that you can wear it when you go voting.
Come and get your Batman Bruce Wayne For President T-Shirt.