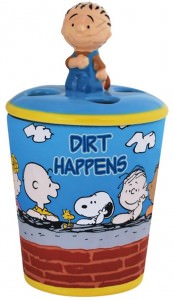 Peanuts Gang fans and definetly Pigpen fans this is a perfect collectors item and a great item to actually use and add to a Peanuts themed bathhroom.
Featured on this toothbrush holder is a painted image of fun characters from the Peanuts Gang like Charlie Brown, Snoopy, Woodstock and many more, On the top of this Peanuts toothbrush holder there is a 3d ceramic statue of Pigpen.
This is an officially licensed Peanuts product that is made from ceramic and measures 6.5 inches tall and is a four hole toothbrush holder.
Dont miss out collect and use this Peanuts Pigpen Toothbrush Holder.