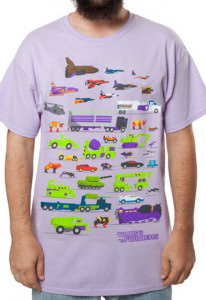 Which Transformer group do you cheer for – the Decepticons or the Autobots?
Wear this shirt and you will show your love of the Transformers Decepticons.
The front of this men's t-shirt is covered with images of many of the Decepticons that you will find in their movies, videos, games and toys.
Some of the colorful Decepticons pictured are Hook as a crane, Headstrong as a rhinoceros, Blastoff as a space shuttle and Thundercracker as an F-15 Eagle plane.
This 100% cotton screen-printed men's shirt comes in a light purple color and in sizes S to 5XL.
Have a closer look at this Men's Decepticon Transformers T-Shirt.