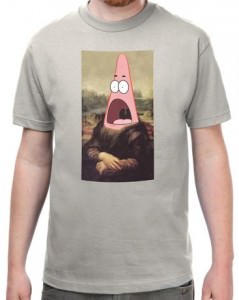 Well it probably is not right to deface the classic painting of The Mona Lisa, but if you did why not throw a classic SpongeBob Squarepants character Patrick Star on it.
This SpongeBob Squarepants t-shirt features the loveable Patrick Star, find his head inserted onto the famous Leonardo da Vinci's painting the Mona Lisa, instead of Mona Lisa's face you will see Patrick Star's face.
You can get this classic Mona Patrick t-shirt in a wide range of sizes from Small to 3XL and it is made from 100% cotton to give you a durable long lasting shirt that will also be super comfortable.
Check out the SpongeBob Squarepants Patrick Star Mona Patrick T-Shirt.