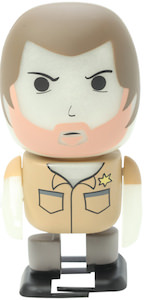 Do you want to have your own personal Rick Grimes like we all know him from The Walking Dead?
Of course the real Rick is a little bit busy with trying to stay alive and killing all those walkers.
But you are in luck as Rick now has little versions of himself to spread around.
This is a wind up toy that looks like Rick Grimes when he still wore his police uniform complete with the famous star. And you know what Rick maybe only wind up but he still will glow in the dark for you.
This wind up toy is 3 1/2 inch tall and comes in a nice windows box so that you can keep him safe and far away from walkers.
Come get your own The Walking Dead Rick Wind Up Toy.