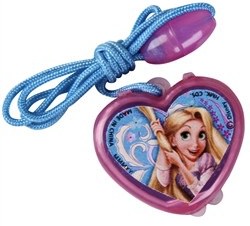 The Tangled movie was so much fun to watch and now the kids really like all the princess Rapunzel things.
Now you can get some real fun Tangled party favors like this lip gloss necklace withs come in a set of 4.
The hear shaped pendant holds the lip gloss and has a picture of the long haired princess Rapunzel.
Make you kids happy with the Tangled Princess Rapunzel Lip Gloss.