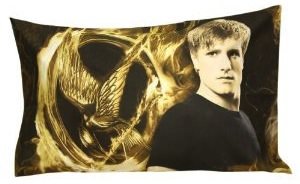 If Peeta is your favorite Hunger Games character then this is the item for you.
This Hunger Games pillow case shows a picter of the Mockingjay and of course a picture of Peeta Mellark.
A pillow case like this will make your dreams of the Hunger Games even better. And this Peeta pillow case will fit a normal size pillow.
So get ready to fall a sleep on your pillow with The Hunger Games Peeta Mellark Pillow Case.