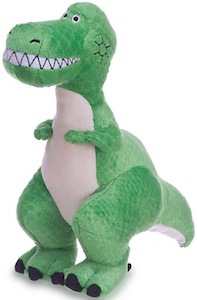 The Toy Story movies had of course a lot of toys in them as it was all about the toys.
But do you remember Rex? The Tyrannosaurus a big green dinosaur.
Now you can have your own Rex but as a plush toy. This plush animal looks just like Rex from Toy Story but then all soft and cuddly.
The plush of rex  does not have any sharp parts that could come off. Features like the eyes and mouth are embroidered on so that you don't have to worry that they come of and your kid would swallow them.
Kids are gone love this green dino so come and get a Toy Story Rex Plush.