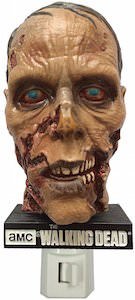 OK you are afraid of the dark but not of walkers like you see on The Walking Dead.
If that is true then this is the night light to get.
The light simply plugs into a power socket and then you have a night light that looks like a zombie head complete with scratches and everything. And below the freaking walkers head it says "AMC The Walking Dead".
Just imagine having guest over and they are happy to see some light in the hallway if the need to go to the bathroom at night but then they see this walker and the scream the whole house a wake.
If you want light and good fun then you will need this The Walking Dead Walker Head Night Light.