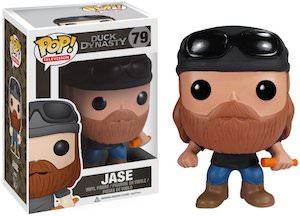 There is Jase one of the Robertson brothers and this figurine of Jase looks just like him.
The Duck Dynasty figurines from Pop! Vinyl are fun to collect and they are only 3.75 inch tall and that means that you can have many living on a shelve or maybe even you man cave.
This figurine of Jase Robertson has everything you expect from Jase. He wears his hat with a pair of sunglasses on top and then he has a duck call in his hands. And yes he has a beard to.
So if you are the Duck Dynasty collector that wants it all then you should not wait and just order this Duck Dynasty Jase Robertson Figurine.