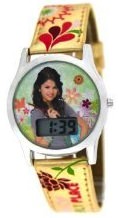 This a Disney licensed watch based on the TV series the Wizards of Waverly Place.
It is a digial watch that has a date and month function and of course will tell time to.
There is a nice and colorfull leather band and a clock face with Selena Gomez on it but of course she is playing Alex Russo.
If doesn't matter if you are a fan of the Wizards of Waverly Place or Selena Gomez you just gone love this digital watch.
Come and order your own Wizards Of Waverly Place Alex Russo Watch.