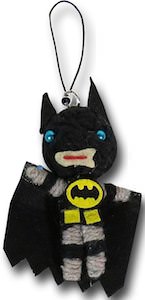 This little string doll looks just the Batman the superhero.
And yes this Batman doll is a key chain but with a little string loop so that you can also use it for other things like your keys.
Use it as a phone charm, zipper pull or just to decorate a backpack.
The Batman string doll looks a bit like a voodoo doll but nobody would want to hurt Batman.
At about 3 inch tall this little sting Batman is the perfect size for having it with you all the time without being in your way.
Now is the time to get your own Batman String Doll Key Chain.