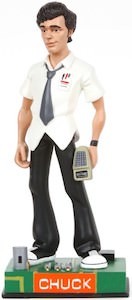 There we have Chuck Bartowski as we all know and love him the geek that worked at the Buy More.
Now you can have you own Chuck as figurine.
This Chuck figure is 7.5 inch tall and is not a toy just a display piece that looks just like your favorite spy.
The Chuck figurine has great details like the shoes he wears and the pocket protector and he is even holding a barcode scanner.
He is standing on a base that looks to me like a computer part and it has the logo of the show on it.
Lets keep Chuck in our memories and it is a log easier if you got your own Chuck Bartowski Figurine.