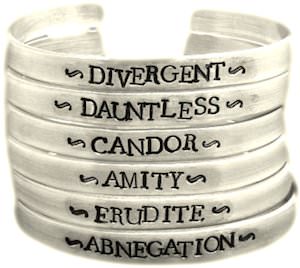 Divergent fans can now show the faction they choose around their wrist.
This hand made bracelet is specially made for you witch makes it an even better piece of Divergent jewelry.
The bracelets are hand stamped aluminium and will fit most comfortably.
You can choose to have a bracelet that says:
Dauntless
Candor
Amity
Erudit
Abnegation
Divergent
And yes it's only one so that you never get the faction you don't like. You just order the one you want.
Special jewelry like this is highly collectable and one of a kind and that of course is what a true Divergent fan deserves.
Come have a closer look at these Divergent Faction Bracelets.