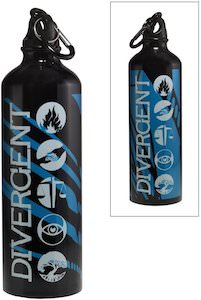 We all need to hydrate and this metal Divergent water bottle is perfect for that task.
This 32oz bottle has a top with a carabineer clip so that you hang it on your bag or even you pants.
And this bottle is black an on the black you can see in blue parts of the tattoo's from the back of Four and then the bottle has in white the word "Divergent" and the logo's from all 5 fractions.
So there is a round logo for Abnegation, Amity, Candor, Dauntless and Erudite.
A bottle like this is great for anyone who likes Divergent and it does not matter if it's the book or the movie the bottle is just awesome.
Come take a closer look at this Divergent Fractions Water Bottle.