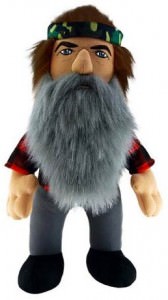 The man that started it all, the Duck Commander himself …… Phil Robertson always has an opinion and will always let you know it.
That is why this is the perfect Duck Dynasty fan gift, this is a Phil Robertson talking plush that has every little detail you will find on Phil that makes him Phil like the big bushy beard, plaid shirt and the camouflage bandana.
This is a super cool plush that measures 24 inches tall and says some of Phil Robertson's classic lines from the reality television series of Duck Dynasty, don't miss out on this awesome plush doll.
Collect the Duck Dynasty Phil Robertson talking plush.