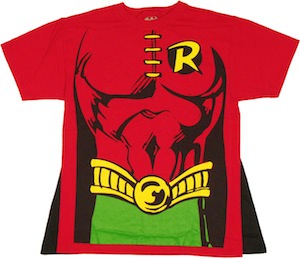 Batman would be having problems if it wasn't for the help he gets from his helper Robin.
And if you want to be Robin and become Batman's right hand man then you are in luck.
This costume t-shirt is just like any normal t-shirt but makes you look like robin as the shirt is red and shows the muscled body of Robin and his uniform and this t-shirt has something special it has a cape.
On the shirt there is an easy to remove black cape that is hold in place with velcro. And the black cape has a big green R on it to.
So not only is this shirt fun for any day without cape but it also great for dress up parties and for when you are really helping Batman.
This 100% cotton t-shirt comes in a range of adult sizes.
Now is the time to become Robin by just wearing this Batman Robin Costume T-Shirt With Cape.