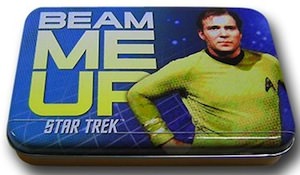 Time for poker night?
If so stop using those boring playing cards and replace them with something special.
How about these Star Trek playing cards?
These cards come in a special storage tin that says "Beam Me Up" and has Captain Kirk on it to.
So now you card games will be so much better as everyone wants to join in to see those amazing Star Trek playing cards.
Get ready to play cards with you own Star Trek Playing Card Set In Collectors Tin.