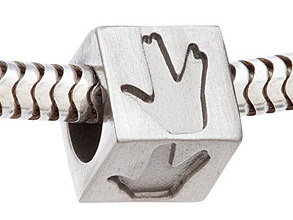 Now you charm bracelet can show how geeky you are with this Vulcan salute charm.
Star Trek fan will be happy to know that this charm will fit a charm bracelet from all the mayor brands including PANDORA, Chamilia, Biagi and Troll.
This Star Trek charm is 7 mm with a 5 mm hole in the middle and each side shows that Vulcan salute just like we have seen Spock do millions of times.
A charm like this is the perfect present for a friend with a charm bracelet that like Star Trek as much as you do.
Come and make that charm bracelet complete with this Star Trek Live Long And Prosper Charm.