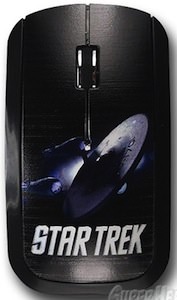 What use would your computer be without a mouse?
Yes pretty useless.
So why not get you computer a nice mouse instead of the boring one you have now.
You can get a special Star Trek mouse like this one.
This wireless mouse will work on pc and mac and has a picture of the USS Enterprice on it.
If you dream of traveling with the Starship Enterprise then this is as close as you ever gone be.
Don't wait till your mouse stops working replace it now with this Star Trek Wireless Mouse.