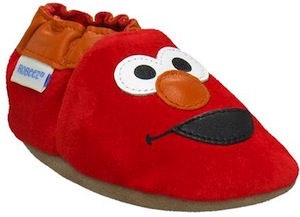 Your little baby needs to have some fun shoes that are safe and stay on when needed.
These red soft soles Elmo shoes are not only super cute they are also soft and save.
Robeez makes these amazing Sesame Street slip on shoes for infants and toddlers.
And these shoes are approved by the American Podiatric Medical Association. This of course makes it fun and save when you little one crawls and moves around.
These Elmo shoes are made from suede and are washable for easy care. And the elastic top keeps these slip on shoes in place whithout the hassle of lasses of velcro.
If you are looking for nice little slip on shoes for your baby or toddler then come check out these Robeez Soft Soles 3D Elmo Slip On Shoes.