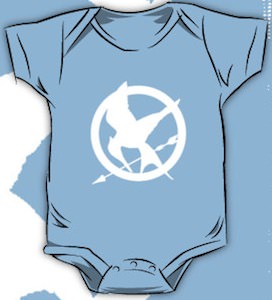 You can never be to young to become a Hunger Games fan.
Maybe it will take a couple of years before you can read the books and watch the movies but you can already wear you own Mockingjay bodysuit.
This one piece bodysuit comes in a short sleeve and long sleeve version and comes in a range of colors and sizes.
Make you baby the youngs Hunger Games fan by making it wear this The Hunger Games Mockingjay Bodysuit.