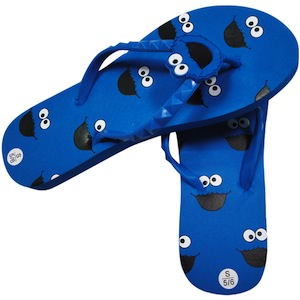 This monster loves cookies so these sandals are a great warning mechanism so that people have time to hide there cookies.
A pair of adult Sesame Street sandals that is fun for the summer.
You can get these blue flip flops in sizes S (5-6), M (7-8), L (9-10).
So these flip flops are blue Cookie Monster blue and have his face printed all over the top and then on the toe conection piece you will find again Cookie Monsters face staring at you.
If this time is cookie them then run and order your Sesame Street Cookie Monster Flip Flops.