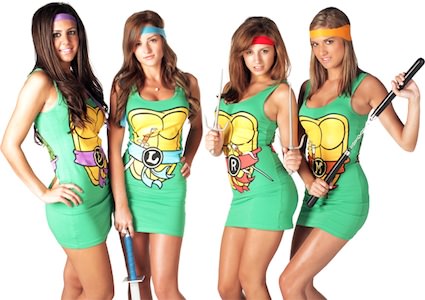 Do you and your girlfriends want to be Ninja Turtles?
If so then this is the closest you can get to becomeing one.
These sexy tank top style dresses look like a TMNT character. So the dress is green and the front and back have the design of your favorite turtle.
So there are 4 different Teenage Mutant Ninja Turtles dresses one for each turtle so there is a:
Donatello
Leonardo
Raphael
Michelangelo
These TMNT dresses come in junior sizes X-Small – Large.
If you just even like these dresses a little bit then you should come have a closer look at these fun Teenage Mutant Ninja Turtles Characters Dresses.