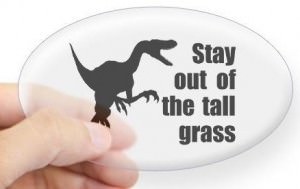 The Dinosaurs are everyehere, no where is safe….Definetly not the long grass!
From Jurassic Park, a movie about Dinosaurs this decal has one of the classic quotes "Stay Out Of  The Tall Grass" printed on it and a silhouette of a raptor to the left of the quote.
This Jurassic Park "Stay Out Of The Tall Grass" decal is printed on 4mil vinyl and is water proof and UV resistant, you can get it printed with a white background or a clear background and it measures 3 inches x 5 inches oval.
Get your Jurassic Park Stay Out Of The Tall Grass Decal.