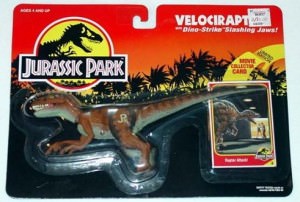 The awsome age of dinosaurs live on at Jurassic Park, so many cool different dinasaurs. Do you have a favorite?
If you love the Velociraptor, or just dinosaurs in general you will love this officially licensed Jurassic Park Velociraptor action figure. Just squeeze the legs and watch as the mouth opens and closes.
This is a great quality product that is definetly worth keeping in the package and adding to a collection, also features a Velociraptor collecting card.
Get your Jurassic Park – Velociraptor Action Figure.