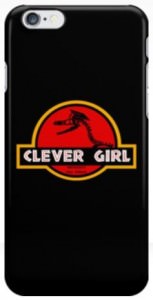 On this phone and iPad case you will see the classic logo for Jurassic Park with a velociraptor as the silhouette image inside the red along with the classic saying "Clever Girl" that Robert Muldoon the park game warden says just before he gets attacked by a raptor.
You can get this Jurassic Park Clever Girl print on these following devices:
Samsung Galaxy S3
Samsung Galaxy S4
Samsung Galaxy S5
iPhone 4
iPhone 4S
iPhone 5
iPhone 5s
iPhone 5c
iPhone 6
iPhone 6 Plus
iPad Retina 3/2
iPad mini
This is the best way to protect your precious iPad, iPhone or Samsung Galaxy phone while also leaving you access to all ports and buttons.
Protect with this Jurassic Park Clever Girl Samsung Galxay And iPhone Case.