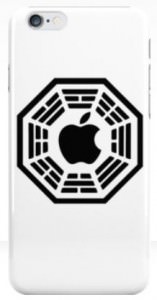 This is an all white phone case that has a Dharma Initiative logo of a octagon with lines inside just as you see in the cool television series Lost, instead of a known Dharma from the show this one uses the Apple in the middle naming this The Dharma Apple Initiative.
The Lost case is available in the Following Apple devices:
iPhone 6 Plus
iPhone 6
iPhone 5s
iPhone 5c
iPhone 5
iPhone 4S
iPhone 4
It is made to perfectly fit each device while leaving you all ports and buttons open for use, and it also helps protects from scrathches, dents and bumps.
Check out the Lost Dharma Apple Initiative iPhone Case.