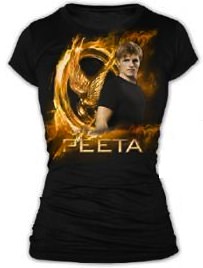 Hunger Games fan already know who you are seeing on this t-shirt.
Yes of course it is Peeta Mellark and he is standing infront of a Mockingjay pin ingulved in flames. And yes this t-shirt even has Peeta's name printed on it.
This junior style t-shirt is black witch makes this picture of Peeta stand out nicely.
You can get this Hunger Games t-shirt in a range of sizes so that it will fit perfectly.
Show the world your love for Peeta by wearing this The Hunger Games Peeta Fire T-Shirt.