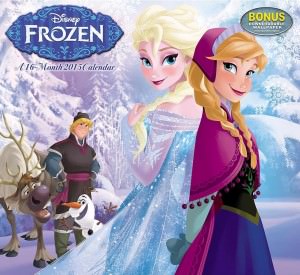 It is time to get that 2015 calendar, and you might as well get this Frozen 2015 wall calendar that includes September-December 2014 overview and a free digital wallpaper that is downloadable for your desktop and mobile devices.
On the front cover of this calendar find the main cast of the awesome Disney animated movie Frozen, Princess Anna, Elsa the Snow Queen, Olaf, Sven and Hans are all there looking happy with a beautiful snowy back drop. And of course inside find many other characters with all of the vibrant and fun colors seen throughout the movie.
This Frozen calendar is a standard wall calendar which measures Size closed: 12.0″ x 11.0 ", Size opened: 12.0 " x 22.0 " and it is kept together with traditional stapled binding.
Enjoy the year 2015 with the Disney Frozen 2015 wall calendar.
You may also like: