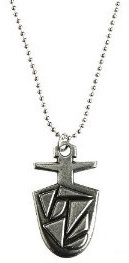 Now you can take over the Tardis from the Doctor as this is the key to the Tardis.
Of course there is one little problem. Where is the Tardis and the Doctor?
A true Doctor Who fan would want to own this piece of jewelry because you never know when this Tardis key comes in handy.
So this could be the missing item in your or a friends Doctor Who collection.
Don't wait order this Doctor Who Tardis Key Pendant.