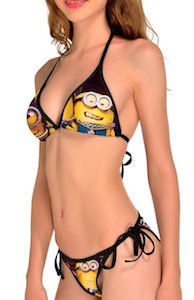 If you like Minions then this Minion bikini is just what you need for your visit to the beach.
The string bikini is black but on that you can find Minions on both the bikini top and bottoms. And the Minions are not dressed for the beach but they are wearing bling to be cool.
Beach or pool this women's swimsuit is just what a Despicable Me fan needs.
And don't worry the Minions are not real they are just pictures so not much can go wrong on that summer day you like to wear this.
You may also like: