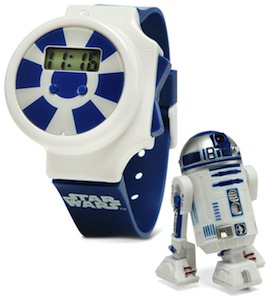 Star Wars fans will be so exited to see this watch and robot.
This looks like a simple Star Wars watch in the colors of R2-D2 but it is more. When you get this watch it includes a version of R2-D2 and you can controll this little robot.
The robot is controlled by the watch and that makes it fun to steer R2-D2 around you work desk or lunch table.
And when you are done steering R2-D2 around you just clip him on your key chain and use the Star Wars watch to read time.
This complete package is not only fun but usefull to so come get your Star Wars Remote Controlled R2-D2 Watch.