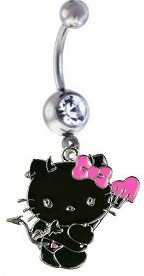 Having you belly button pierced is one thing but getting something nice to hang from it that is something different.
But you are in luck as now you can have a little Hello Kitty devil hanging on your belly ring.
The belly ring is made fom 316L surgical steel the same material they use inside your body if they need to fix breaks and stuff. This means that it should be totaly save for your body.
And the belly ring also has a little rhinestone to make it flash just a little bit more. And then there is the dangling devil a black enamel Hello Kitty devil with a little pink bow and a pink heart on a pitchfork just like a true devil.
So are you a little naughty girl that like Hello Kitty?
If so then you should check out this Hello Kitty Devil Dangle Belly Ring.