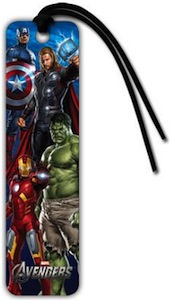 This is a bookmark with superhero's on it. And yes you don't have to read "real" books to get one of these, comic books are good enough.
On this bookmark you find for of the Avengers. You see Captain America, Thor, The Hulk and Iron Man and below them there is the Avengers logo.
A bookmark like this is not only the perfect collectors item it is also really handy as a place mark in you books.
One thing you can't do and that is putting it books with different Superhero's as they like to fight with each other.
Come have a better look at this Marvel The Avengers Bookmark.