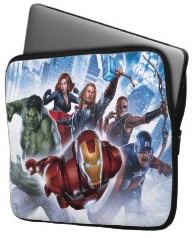 Your electronics need to be save so that means that your laptop needs a sleeve that can protect it from harm.
This laptop sleeve even has Superhero suport from the Avengers.
On this sleeve your see The Hulk, Thor, Black Widow, Hawkeye, Captain America and of course Iron Man.
You can get this sleeve for different size machines from 10″ all the way up to 17″ so just select your size and you computer will be saved from harm.
So time to check out this Marvel The Avengers Laptop Case.