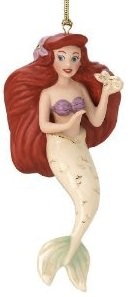 Here is Princess Ariel from the Little Mermaid and wow she looks stunning today.
This is a very special Christmas ornament of Ariel. It is made of Lenox china and is hand painted and has 24 karat gold accents. So maybe not suited for the little once but it would look so nice in your Christmas tree this year.
Have a much closer look at this Ariel The Little Mermaid Ornament.