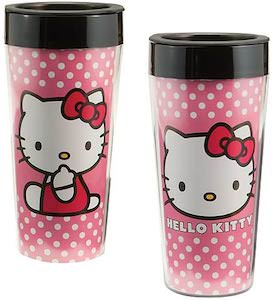 Are you always running late getting ready for work, school or even going on a trip and never have time to finish your beverage?
If you are a Hello Kitty fan this special travel mug will be great to take with you filled with your favourite beverage wherever you go.
This cute Hello Kitty Travel mug is pink with white dots all the way around the mug. On one side features Hello Kitty's Head with her cute pink bow and her name Hello Kitty written under her head. Then On the other side is a whole picture of Hello Kitty sitting down with her had at her held up like she is thinking about something.
It will hold 16 ounces of your favourite hot or cold beverage with a snap on lid to keep it from spilling.
No more throwing out your morning coffee when you can take it to go in this cool Hello Kitty Travel Mug.