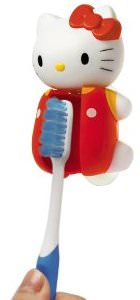 Why have a boring old toothbrush holder on you bathroom counter when you can have this cute Hello Kitty toothbrush holder.
This Hello Kitty toothbrush holder is in the shape of the cute Hello Kitty herself wearing a orange jumper and a yellow top and has her cute little red bow on her head.
If you don't have much space on your bathroom counters then this Hello Kitty tooth brush holder is perfect for you and with suctions on the back it will mount to your mirror, glass and tiles easily. It will also protect your toothbrush from dust and harmful bacteria because you just open the front of Hello Kitty's overalls sit your toothbrush in and push it back and the flipper will close and keep it safe till you brush your teeth again.
Make brushing your teeth fun for the whole family and get this cool Hello Kitty Toothbrush Holder.