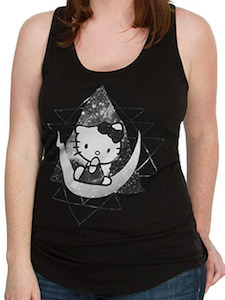 Hey ladies are you all ready for the summer or do you have a little more shopping to do?
Well, if your a fan of the adorable Hello Kitty she  is coming to you on this cute Hello Kitty Tank Top.
This cute black ladies Hello Kitty Tank top features a picture of Hello Kitty on sitting on a crescent moon in front of the Sri Yantra in outer space.
It has tank top style straps and a racer style back and is available in sizes from Small to XL.
Keep cool on a hot summers day and wear this cool Hello Kitty Tank Top.