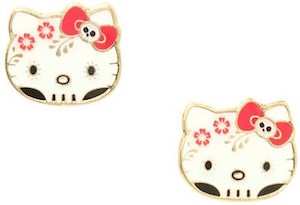 Hello Kitty is perfect for almost any occasion and now there are these day of the death earrings.
These are stud earrings and they look like the typical Hello Kitty face but three are some differences.
Hello Kitty now has black cheeks making the face look a bit like a skull and even on the red bow there is a skull.
These Hello Kitty earrings are not perfect for every occasion but they surely are perfect for some.
Jewelry like this is special just like Hello Kitty.
And if you want a darker look or if you celebrate the day of the death then these earrings could be perfect.
Come take a closer look at these Hello Kitty Day Of The Death Stud Earrings.