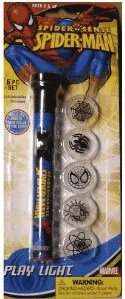 This play light will give your Spider-Man fan hours of fun. This is a flashlight with Spider-Man design on it but that is not all. You can pace one of the 6 designs in front of the light and then the design will be projected on the item you choose like a wall.
Now you can project all kind of Spider-Man thing like a web, spider or his head.
Check out this Spider-Man Flashlight Projector.