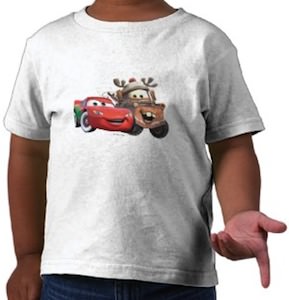 Cars fans will love this Christmas t-shirt.
On the t-shirt you can see Lightning McQueen and Mater both all dressed up for Christmas.
Lightning has green highlights on his car and Mater is wearing a reindeer hat.
And now you can dress up for Christmas just by wearing this t-shirt with those two Christmas cars on it.
This t-shirt is availible for kids and adults in a bunch of colors and styles and of course sizes for the tiny kids to big adults.
If you are still waiting for the right t-shirt then stop waiting and start ordering this Lightning McQueen And Mater Christmas T-Shirt.