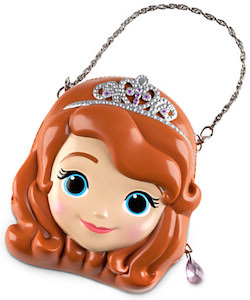 Now you new handbag can look like Sofia the First.
Yes really like Sofia, actually it is a copy of the head of this little princess.
And you can zip it open to find a nice purple sating storage room that can hold all kind of purse things.
The Sofia the First bag has a removable wrist chain so that you can use this purse the way you like.
It's just fun for adults and kids to have a purse that looks so much like the princess in training Sofia the First.
Come and have a look at the inside of this Sofia The First Kids Purse.