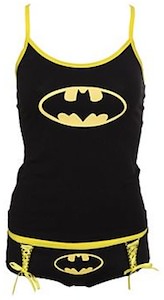 If you like Batman and want to show the world then this sexy Batman set is perfect.
The set includes a tank top  and booty shorts and both are black and have yellow details and the Batman logo. And the Batman logo is special as it will glow in the dark.
Now Batman knows how to find you as he can see the bat logo from miles away.
You can get this Batman set in 3 sizes small, medium and large.
If you like Batman then this is the perfect summer clothing.
Come check out this DC Comics Batman Glow In The Dark Tank Top And Hot Pants Set.