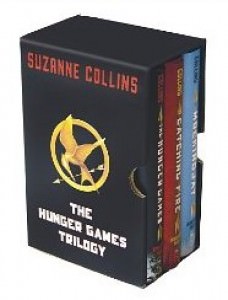 The trilogy is now complete!
The Hunger Games, Catching Fire and Mockingjay can be found in this riviting box set by Suzanne Collins, all three books are in hard cover and waiting for you to read them.
The first book in the series is The Hunger Games, this is set in the future where the Capitol forces 12 districts to select a boy and girl each to fight to death on live television. The main girl character Katniss Everdeen volunteers her self to take the place of her younger sister who had been selected for this fight to the death in the Hunger games match.
Upset with the Capitol and there harsh rules Katniss starts to defy the Capitol and becomes somewhat of a rebellion, rumors spread and the Capitol has now seen the faces of the rebellion, and Katniss is one of them.
Follow the rest of Katniss Everdeen and her amazing journey in book #2 Catching Fire and book #3 Mockingjay, which are all included in this box set trilogy.
Get your The Hunger Games Trilogy Boxed Set.