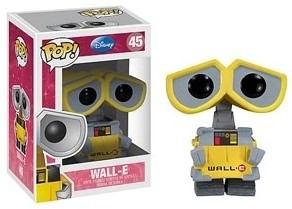 Wall-E is that super cute robot that we left to clean up our mess.
OK it was only a movie but the Disney movie Wall-E should warn us about what we are doing to our planet.
But if you thought Wall-E was cute then you are gone love this figurine of Wall-E.
The robot really stares at you as if it would be a life.
The figurine of Wall-E is about 3.75 inch tall and is made from vinyl by Funko and it belongs in the long list of amazing Pop Vinyl figurines.
I for sure would love to have Wall-E staring at me all day long. He would be great for on my desk or a book shelve.
Find a spot where you would like him and now is the time to adopt your own Wall-E Pop Vinyl Figurine.