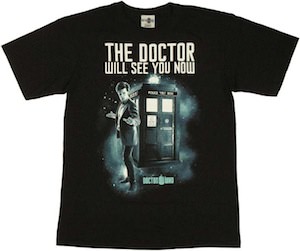 If you need to see a Doctor then of course you only want to see Doctor Who and you are in luck as this t-shirt says "The Doctor Will See You Now" and below that you see the 11th Doctor and his Tardis floathing in space and there is even the Doctor Who logo.
If Matt Smith is you favorite Doctor then you should now wait to see him.
This black t-shirt comes in a wide range of adult sizes and can be worn on almost any occasion.
So if you want to make people meet the Doctor then come and get your Doctor Who The Doctor Who Will See You Now T-Shirt.