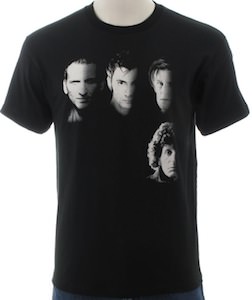 We all know that the Doctors are not to stay and that is why there are a whole bunch of them.
These time lords are all amazing and now they combined some of them on one t-shirt.
This black t-shirt shows 4 time lords.
There is the 4th, 9th, 10th and 11th Doctor all together on one amazing Doctor Who t-shirt.
Of course group of Doctors like this deserve a quality t-shirt and that is why this shirt is made from 100% 6oz. cotton and the picture of the Doctor's is screen printed on it.
You don't have to choose between who is the best Doctor, Tom Baker, Christopher Eccleston, David Tennant or Matt Smith because they can all be found on this t-shirt.
And yes this t-shirt come in a wide selection of adult sizes from Small – 3XL.
Lets get ready for the time lords by ordering this Doctor Who 4 Doctors On One T-Shirt.