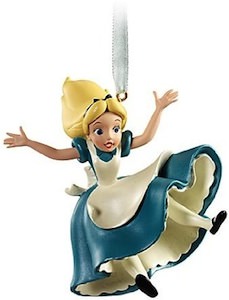 This Christmas ornament is stunning.
Remember how Alice fell down the rabbit hole in the Alice in Wonderland movie?
If you do then you know what that looked like and that is how this ornament looks.
Alice with her arms and hair waiving while her dress becomes kind of a parachute.
And now you can have this amazing Alice in Wonderland Christmas ornmanet in your tree it will look like Alice is falling down a branch and still falling down.
The ornament even comes with a white ribbon to attach it to the tree.
Of course you don't have to have this ornament for Christmas it would look amazing any day of the year.
Come and check out this Alice In Wonderland Christmas Ornament.