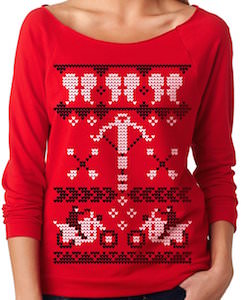 Is Daryl Dixon the TV love of you life?
If so then this is the sweater to get.
This red women's sweater is all themed around The Walking Dead star Daryl. The whole print is made out of white and black hearts and those hearts make wings like we know from his jacket then there is of course his crossbow and arrows and finally the motorcycle he drove on the TV and all made out of hearts.
The design is based on Fairy Isles designs and on this red The Walking Dead sweater it really works.
A big scooped neck and many sizes makes this The Walking Dead women's sweater perfect for all the female fans. So lets not wait any longer with ordering this The Walking Dead Daryl Hearts, Bow, Bike And Wings Sweater.
You may also like: