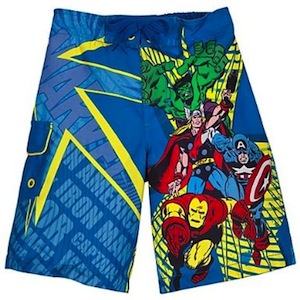 The Marvel characters The Hulk, Thor, Captain America and Iron Man are all part of the Avengers and they are also all on these cool swiming trunks for boys.
On one side of this bathing suit you see all the characters in pictures and on the other you see a big star with Marvel in it and their names.
This boys swimwear comes in sizes 7-8, 10-12 and 14
You boy is gone love these swim trunks and they even have a little pocket and that makes them even cooler.
Get ready for summer or a day at the pool with these Marvel Heroes Swim Trunks.
You may also like: